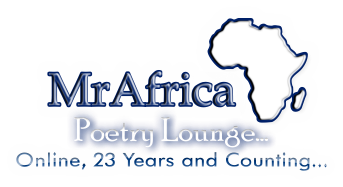 W
elcome to MrAfrica Poetry Lounge. Here you can indulge in poetry that is written by amateur and famous black poets from around the world. Established in 2001, we have had the pleasure of showcasing thousands of poets. Nearly 22 years later, our mission still is the same, as we continue to uplift another generation of poets and poetry lovers.
---
Site Update
...
G
ood afternoon everyone. Summer is in full swing, and it's a great time for family, sharing, and of course good poetry. This week poets will make you want to pick up a pen and start flowing. With that, there is Neo Soul Singer
Jill Scott
. Her music is universally loved, and poetry also has a piece of
JS
's heart. In 2005, she released a poetry book. It was well received by the masses, and it's great to be able to share some of her poems;
Life
,
Envy
,
Music
,
Words
,
Selfish
,
Radio Blues
,
We the People
,
A Poet's Home
,
Old School Lovin'
,
It's the Little Things
,
Dis Niggah (for Leslie)
,
Untitled #1 (Love Sucks)
,
Perms, Hot Combs, and Curlers
,
The Downfall of a North Philly Freak
, and
Young Buck Lovin' on the Kitchen Floor
. If you are feeling the vibe, do head over to Amazon and pick up a copy of;
"The Moments, the Minutes, the Hours: The Poetry of Jill Scott"
. Our second poet is
Nikky Finney
. Like many of the current greats, this talented writer is also a professor. She spent over 20 years at the University of Kentucky, and currently holds down the position of, Jr. Chair in Southern Letters and Literature at University of South Carolina.
NF
has been a mentor to many and has taken the time to uplift black creative writers with workshops in conjunction with Cave Canem - Home of Black Poetry. Enjoy reading over Nikky black poems;
Heirloom
,
I Feel Good
,
The Clitoris
,
The Aureole
,
O' Noblesse O'
,
Sign Language
,
The Afterbirth, 1931
,
The Girlfriend's Train
,
The Condoleezza Suite [Excerpt]
, and
The Lyric Theatre: Lyceum of Dreams
.
The first person to be named National Youth Poet Laureate Amanda Gorman, jumped onto the scene when she was chosen to recite a poem at the inauguration of President Joe Biden. Since then, the sister has won a few awards: the Genius Grant from OZY Media, as well as recognition from Scholastic Inc., YoungArts, the Glamour magazine College Women of the Year Award, Poets & Writers Barnes & Noble Writers for Writers Award, and the Webby Awards. Take the time to view AM black poetry; LIFE, & SO, CALL US, ALARUM, CLOSURE, COMPASS, GOOD GRIEF, SCHOOL'S OUT, THE SHALLOWS, ARBORESCENT I, SHIP'S MANIFEST, THE HILL WE CLIMB, THE UNORDINARY WORLD, PRACTICE MAKES PEOPLE, and THERE'S NO POWER LIKE HOME. Before I get out of here, I have to big ups my poetic brother Jonathan Grayson. His poetry seems to be on the personal tip, as more men need not be afraid to show emotion. JG poetic pieces; Poison by Culture, She Stole My Innocence, I thought you were a friend, A Mind is a Terrible Thing to Waste, and You Hate Me for no Apparent Reason. Well Juneteenth is around the corner. I want all to take time to research this special holiday. It's important to know why this nation is finally recognizing it, and understand as a community we must do our part. Never allow this country to forget and continue to teach our youth the real history of America. So, with that, stay bless my fellow poets. Mr. Africa - June 9, 2022
---
G
ood afternoon everyone. Like so many, I have been enjoying mother nature, as it's always nice to spend time outside of the house. Simply walking around your neighborhood can do wonders for ones' health and outlook on life. With that being said, in this update I'll be introducing more female poets who were part of the Harlem Renaissance. To my surprise, there are so many who flew under the radar; by me digging deeper into that period I'm now able to share their poetry with all. First up, we have
Anita Scott Coleman
. Never residing in Harlem, NY, her work speaks volume of what many writers inspired to be during that time. This talented sister published stories, essays, and poems which appeared in national magazines such as: The Messenger, Opportunity, Journal of Negro Life, The Half-Century Magazine, The Competitor, and The Crisis.
ASC
black poems;
Wisdom
,
Antidote
,
Wash Day
,
Black Baby
,
Portraiture
,
Black Faces
,
The Colorist
,
Negro Laughter
,
Of Growing Older
, and
On Being Taken for Granted
. Then there is
Alice E. Furlong
. Unlike many of her peers, there is little known about this writer other than being one of the founding members of the Saturday Evening Quill in Boston, A group of Black writers. You will see that Alice's theme in regards to poems usually reflected a broken heart.
AEF
black poetry;
Suicide
,
Awaiting
,
Possession
,
Destruction
,
Unfulfillment
,
Laurel Leaves
,
The Sea's Warning
,
Riches and Poverty
, and
When Love Is Laid Away
. Like her fellow poets,
Virginia Houston
seem to shine during the Harlem Renaissance. She was published quite often and could be found in The Crisis and Opportunity from 1929-1931.
VH
black poems;
Query
,
Interim
,
Ecstasty
,
Fugit Amor
,
Class Room
,
Troubadour
, and
Recapitulation
.
A playwright, educator, actress, poet and stage director, Gertrude P. McBrown was a woman determine to leave an imprint on this world. The poetess taught dramatic arts at North Carolina Agricultural and Technical College, and regularly was featured in the various magazines and literary journals such as: Popular Educator, Opportunity, International Poetry Magazine, Black Opals, Phylon, and Negro Women's World. Some of GPM black poetry; Lost, Flights, Unseen, Fire-Flies, Full Moon, Sunset Calm, Purple Dawn, Love Not Fame, Two Worshipers, and Jehovah's Gesture. Many of you have heard of Cave Canem, the literature organization Founded by Toi Derricotte and Cornelius Eady. For nearly 26 years the two have enriched and uplifted African-American poets. For more info, regarding their mission check out the official website; CC - A Home For Black Poetry (------
Now on to the late Ted Joans. To my surprise, I never realize Jazz poetry was so deep and glad to see poets acknowledging this music genre. The likes of Amiri Baraka, Sterling Brown, and Langston Hughes have penned such pieces. Hope you enjoy reading over TJ jazz infused flow; THE TRUTH, "The Sax Bit", ONE BLUE NOTE, JAZZ IS MY RELIGION, and I, Too, at the Beginning. After all these years one of the site fan favorites have returned. Sister Anesa Laneigh has 7 new poems for all to intake; Essence of Jazz, Soulmate-4-Life, Love Blossomed, Black Superman, Here's to Our Forever, Nothing...Just Growth, and Love's Mental Alchemy. Also, too my delight, she recently released a poetry book entitled; "Broken Silence: A Woman's Roar" (------ Joining the crowd Denzel James decided to submit a few pieces; Regrets, Love People, Hurt and Healed, I Want To Dream, and The Next Time I See You. Me and this brother go back a few years; I never knew he was into this art-form like that. Just like our poetic sister, he too has published a poetry book: "The Cycle: A Journey Through Love", etc. (------ Let's support our Authors!! Wrapping this up, like I have said many times, do continue to uplift the next generation of black poets. Have a bless day. Mr. Africa - May 21, 2022
---
G
ood afternoon, everyone. Every generation has voices that will speak to their time and their voices will eventually transcend time. Just as Phyllis Wheatly, Maya Angelou, and Langston Hughes would show us life in their era, they would give us transcending wisdom. Today we are seeing the emergence of Black Poets that are speaking for this era; they are the new greatness that will continue the legacy of dynamic Black Poetry. One of the poetic voices of this era is
Jericho Brown
. This Louisiana born writer happens to be the recipient of fellowships from the Guggenheim Foundation, the Radcliffe Institute for Advanced Study at Harvard, and the National Endowment for the Arts, and he is the winner of the Whiting Award. Do enjoy his poetry;
Odd Jobs
,
Vaccinated
,
Heart Condition
,
Track 1: Lush Life
, and
Prayer of the Backhanded
. There also is
Angela Jackson
. A playwright, and novelist based in Chicago, Illinois. She became Illinois Poet Laureate in 2020. Has already inspired so many poets, and her words will soothe one's poetic soul.
AJ
poems;
Angel
,
Strolling
,
Angelhair
,
The Gulf of Blues
, and
Miz Rosa Rides the Bus
. Also doing her part, we have
Vievee Francis
who is currently an associate professor of English and Creative Writing at Dartmouth College. Like so many of the greats, she is a master of wordplay.
VF
poetry;
Taking It
,
Inevitability
,
Given to Rust
,
Beast and Beauty
, and
Like Jesus to the Crows
. Detroit, born poet
Tyehimba Jess
has been on the scene for a while now. Already acknowledge by his peers, this writer happens to also be the Assistant Professor of English at College of Staten Island. A poetry slam veteran, I do encourage one to stop, and just feel his flow;
Mercy
,
What Marked Tom?
,
Blind Boone's Vision
,
Hagar in the Wilderness
, and
martha promise receives leadbelly, 1935
. A man who truly paved the way for 21st century black writers, I'm honored to be able to post some of
William S. Braithwaite
poetry. Whenever you get a chance, do research, and you will find this brother accomplished so much, I for one will forever be grateful.
WSB
poems;
Del Cascar
,
This is My Life
,
It's a Long Way
,
The House of Death
, and
Turn Me to My Yellow Leaves
.
Now many of you, have heard of the Harlem Renaissance which was an Intellectual and cultural revival of African American music, dance, art, fashion, literature, theater, politics and scholarship. Many dynamic women contributed to the literature of this time. One of them was, Carrie W. Clifford. The sister was noted for being an author, clubwoman, and activist in the women's rights and civil rights movements in the United States. Like her male peers, poetry inspired such a writer to pen the following pieces: God, Quest, Poetry, Together, and The New Year. Also, Clara Ann Thompson was part of the in crowd. A teacher and civil rights advocate, she often enjoyed writing. Her poems allow one to go back in time. CAT poetry; Hope, Memorial Day, To My Dead Brother, Uncle Rube's Defense, and Johnny's Pet Superstition. This poet is no longer with us but know that Maya Angelou's poetry shall continue to touch the lives of many people, and poets alike. A few more pieces from our beloved queen; Kin, Awaking in New York, and On the Pulse of Morning. Another one of the greats, from the past, is Langston Hughes. His poetry speaks for itself, and still today many seek out such a unique flow; Aunt Sue's Stories, and Lament for Dark Peoples. At this moment, Quincy Troupe happens to be one of the elder statesman in poetry, and often associated with Black Arts Movement writers such as: Ishmael Reed, Wanda Coleman, Haki Madhubuti, Amiri Baraka, Nikki Giovanni, and the list goes on. The brother even today continues to breathe poetry; I encourage all to read more of his work: Amnesia #1, Sonic Fireflies, and Amnesia #3: Photographs & Videos. Before I wrap up this site update, I must mention poet Georgia Douglas Johnson. One of the earliest female African American playwrights, and an important figure of the Harlem Renaissance. Georgia is a prime example of what can happen, if one doesn't allow society, to limit your shine. More of GDJ poetry; Moods, Brotherhood, and Homing Braves... Do continue to stop by and take in the work of amazing poets, while adding your poetry to the legacy of Black Literature... Have a nice day. Mr. Africa - February 1, 2022
---
G
ood afternoon, everyone... So happy to see thousands of visitors come through on a monthly basis and enjoy poetry. Here we shall continue to showcase black poets.
Black History Month
is just around the corner. During that time, feel free to patronize your favorite poets, and so on. As a community, we need to do our part when it comes to supporting the arts. On that note, this week we have the one and only
James Baldwin
. This brother, who was also active in civil rights movement, left a lasting impression upon us all. Through his work, one is allowed to peek inside of black community during a disturbing and turbulent era.
JB
poems;
Amen
,
Untitled
,
The giver (for Berdis)
,
Munich, Winter 1973 (for Y.S.)
, and
Le sporting-club de Monte Carlo (for Lena Horne)
. Then we have
Patricia Smith
, who is a four-time individual National Poetry Slam champion. She happens to be the first Black Woman to publish a weekly metro column for the Boston Globe. Sister has paid her dues, so do enjoy reading over a few poetic pieces;
Siblings
,
Sweet Daddy
,
Hip-Hop Ghazal
,
Prologue-And Then She Owns You
, and
When Black Men Drown Their Daughters
. This brother needs no introduction; Ghanian born poet
Kwame Dawes
, has already authored over
20
books, and is doing his part to uplift a generation of African writers.
KW
poetry;
Talk
,
Horns
,
Caution
,
Requiem
, and
Coffee Break
. Winner of the Pulitzer Prize for Poetry,
Tracy K. Smith
already has accomplished a lot, and still today this talented sister is creating masterpieces. Currently, she is a professor and director of the Lewis Center for the Arts' Program in creative writing at Princeton University. Feel free to intake
TKS
words;
Dusk
,
Sci-Fi
,
The Good Life
,
Garden of Eden
, and
Wade in the Water
. During the dark times within American history our people found a way to survive, and many indulge in literature. Such a person was
George Moses Horton
, who is widely acknowledge, as the first African-American to publish a collection of poetry in the South during the antebellum period. Take a few minutes to bathe within his flow;
Lincoln Is Dead
,
The Southern Refugee
,
Like Brothers We Meet
,
On Liberty and Slavery
, and
George Moses Horton, Myself
. It's a new year, and we are continually dedicated to introducing you to more dynamic poets, and their poetry. Do continue to visit, and contribute to this ever growing oasis of Black literature. Have a bless day.
Mr. Africa - January 24, 2022
---
G
ood afternoon, everyone. Like so many, I'm excited to embrace
2022
. It's the start of a New Year; finally, after all these years, we have unveiled a new design. The design may look familiar, as it's similar to well-known encyclopedia site
Wikipedia
. With that, let's all enjoy the new poetry. First there is
Arthur Lewin
. This Jamaican born poet, kindly sent us
5
poems:
WOKE
,
SHADOW OF A DOUBT
,
WORLDS WITHOUT END
,
I've Seen Cities That Don't Exist
, and
NOW THAT YOU KNOW THE STORY
... This brother also happens to be an accomplished professor; it's always nice to see our people working in the educational sector. There is also
Ntozake Shange
. This sister truly touched so many, as a black feminist, and one who proudly pushed the Black Power agenda.
NS
poems;
i. Mood Indigo
,
who am i thinkin of
,
for my dead & loved ones
,
[lady in red] "at 4:30 AM"
, and
its happenin/ but you dont know abt it
. Many of you may not have heard of
Frances E.W. Harper
. This woman was born free in 1825; later in years she would become a teacher, public speaker, and part of the abolishing slavery movement. Do enjoy more of her poetry;
Learning to Read
,
The Slave Mother
,
The Slave Auction
,
A Double Standard
, and
Songs for the People
. Can't forget
Audre Lorde
. Some would say she was before her time, as this sister wore so many Titles: feminist, womanist, librarian, and civil rights activist. Her poems allow one to view things from various perspectives;
Hanging Fire
,
Rites of passage
,
THE OLD DAYS
,
A Litany for Survival
, and
From the House of Yemanja
. Before I go, I want to encourage all to leave a message via the new
guestbook
. Let us know how long you been visiting this place, and if we have posted any of your work over the years. Have a nice day.
Mr. Africa - January 3, 2022
---
---